Kelsey Plum Rises to the Top; Makes NCAA Women's History
March 3, 2017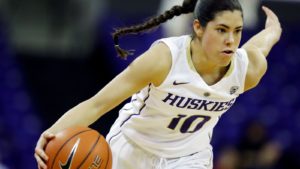 On Saturday, February 25th, college sports witnessed one of the most spectacular performances in Basketball history. Star Guard from the University of Washington, Kelsey Plum, surpassed Jackie Price for the all time leading scorer in NCAA Women's College Basketball history. She needed 54 to capture the title, and the nation's top scorer poured in an impressive 57 on her Senior day to put a stamp in the history books.
It was a beautiful thing to watch. Plum was doing it all for the Huskies; as well as showing off her game. After an impressive 22 points in the first half, 16 in the third, she needed 15 more. Her teammate, Chantel Osahor, fouled out in the fourth quarter, and that's when Plum really stepped up. She scored back to back three pointers, and from that point on everyone knew that there was no stopping her from making history.
"It was kind of the icing on the cake" Plum described after the game. "Getting a win on Senior Night with my family here and then this ceremony after just put it in perspective. This was an amazing day."
She led her team to the 84-77 victory over Utah in the season finale. In addition to capturing the all time scoring record, she even passed her own record she set last year for the highest single season scoring record. She is only the 12th player to score over 3,000 in NCAA history, and she now has accumulated 3,397 and counting.
Something else to be watching out for is another record Plum could accomplish: being the only player; male or female; to finish a season as part of the 50-40-90 club. She is currently 88.7% from the line, so if she makes a couple more; it's a possibility.
This climb to the top for Plum has been something extraordinary to watch over her four years at Washington. As well as being a great player, the way she plays is fun to watch. Nobody in the Pac-12 has figured out how to stop her, and nobody ever will. There is nothing this woman can't do. If you're a Dawg fan, I'm sure that you will probably never witness another legacy like the one Kelsey Plum has placed in your hearts. I suggest you lay back this March and enjoy watching a Washington women's game, you won't regret it. Everything else Plum accomplishes from this point on is just another tab in her record book, and I wouldn't miss it if I were you.
Continue watching Kelsey Plum, the Pac-12 player of the year, and her fellow Huskies as they continue their journey in the Pac-12 Tournament Quarterfinals on March 3rd.
Written by Kristen Connors