Heroic Hits From the Sox
June 18, 2017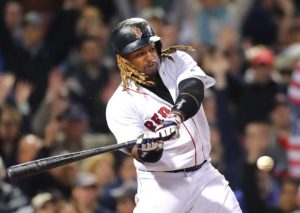 The Red Sox have been in a Sahara-dry type of slump in terms of hitting, but as of late the drought has seen sprinkles of rain.  Late inning clutch hits from the Red Sox in the past couple of weeks have given fans a taste of what our lineup can be producing on the offensive side of the ball, and with the season still on the early side this is a great sign.  In addition, these shots have come from a variety of players, therefore proving we aren't relying on one star to carry us back towards our full potential.
A major contribution to getting the bats going again came from Dustin Pedroia and Hanley Ramirez in the 6-5 win against the Phillies on June 12th.  In a close competitive game, Hanley whacked a solo shot in the eighth inning giving the Sox a redemption to stay in the game.  This tie lasted until the eleventh inning, where Pedroia put the game away with a walk off single.  Winning in extras after coming from behind is a huge confidence booster for a team who has been struggling to put up runs.  This confidence boost has stayed with them, and they have actually built off of it since this late game victory.  In fact, the very next day the Red Sox faced a similar situation, tied at three heading into extras against the Phillies.  However this time the Sox left runners stranded on base in both the tenth and eleventh innings.  Despite these missed opportunities, Benintendi took matters into his own hands as he drilled a walk off base hit in the twelfth to seal the deal.  
Now after back to back wins coming from clutch hits, the Red Sox had all the confidence they could want coming into a scary series against the league leading Houston Astros.  In a game where the Sox looked like they would struggle to keep it close, they actually never trailed.  Following the same theme as before, the Red Sox found themselves tied in the seventh inning, but instead decided to make their move early as Mookie Betts cranked a home run in the eighth to take the lead needed to finish with a 2-1 dub.  Toppling the best team in baseball in the first game of the series at the Astros stadium was a statement the league should take notice of. The Red Sox, when on their game, can compete with the best of them.  Hopefully they can continue to prove this statement true and keep the dry spell away for a while as all of Boston practices their best rain dances.
Written by Brett Clark