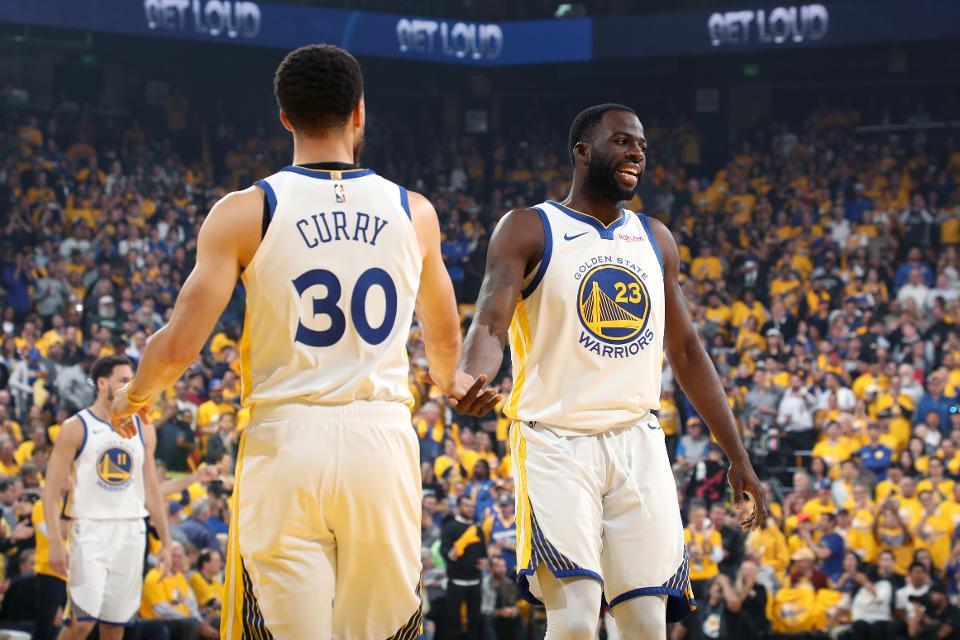 Golden State Warriors 2019-2020 Season Outlook
August 18, 2019
By: Zach Ruff, Basketball Analyst
With just over two months until the start of the 2019-2020 NBA season we continue our team by team analysis with the Golden State Warriors.
Key Additions: D'Angelo Russell, Klay Thompson (resigned), Kevon Looney (resigned), Alec Burks, Willie Cauley-Stein
Key Subtractions: Kevin Durant, Shaun Livingston, Andre Iguodala, Quinn Cook
Draft: Jordan Poole (G), Eric Paschall (F), Alen Smailagic (F)
The Golden State Warriors fell two games short of a three-peat this past season, thanks in large part to season ending injuries to Klay Thompson and Kevin Durant. As expected, KD left this offseason to team up with Kyrie Irving in Brooklyn once he recovers from his injury. Klay Thompson signed a max deal and Draymond Green inked an extension that will keep the Curry-Thompson-Green core together (barring a forced trade) until at least the end of the 2021-22 season.
The most shocking move this offseason for the Warriors was the sign and trade for D'Angelo Russell. After leading the Nets to the playoffs, it was all but certain Russell would be on the move with the additions the Nets made. Somehow, Golden State accomplished a sign-and-trade deal with Brooklyn to get the former Laker on a four-year, $117 million-dollar max contract. Make no mistake, this deal is a direct response to Kevin Durant's departure and Klay Thompson's injury. While Russell is a clear upgrade over the Warrior's other options, he cannot make up for the loss of 47 and a half points that KD and Klay averaged last season. In addition, he and new back-court mate Steph Curry are not known for their defensive prowess. Their back-court pairing could spell trouble until Thompson returns. Once Klay does return, Steve Kerr will need to weigh the options of trading away Russell and his contract or somehow getting both Thompson and Russell on the floor at the same time. Russell also essentially came at the cost of Shaun Livingston and Andre Iguodala. No one can argue that either is better than Russell, however, Iguodala has shown exceptional basketball IQ, active defense, and willingness to defer to other players. His presence will be missed by a team that is returning to its pre-KD identity.
The Warriors snagged Michigan shooting guard Jordan Poole with the 28th pick in the first round of this year's draft. In 37 starts for Michigan last season the second-year guard scored 13 points on 44% shooting while performing as the 12th highest rated defender in the Big Ten. If he can bring that shooting and contribute on defense, he should receive valuable minutes and have the opportunity to anchor the second unit. Eric Paschall and Alen Smailagić, who was acquired from the Pelicans for two future second round picks on draft night, are seemingly Golden State's answer to trying to fill the 26-point void Kevin Durant left. How much of that hole they can fill remains to be seen. Kevon Looney should be in line to see increased minutes and opportunities, especially after his impact and play through injury in the postseason this past year.
Final Outlook on the Golden State Warriors
This is the first offseason in awhile that the warriors did not get better. Expectations without Kevin Durant and a healthy Klay Thompson are much lower than they have been previously. For the past few years, almost everyone has slated the Warriors to at least make it to, if not win, the NBA Finals. The new additions and young rookies will have to immediately help to shoulder the load for this team to be successful. With how ridiculously talented the Western Conference is right now; the Warriors may not be able to tread water until Klay gets back. Even if they can, will he be ready to propel them to another deep playoff run? It seems there have never been this many questions going into a season surrounding this Warriors team. Barring a blockbuster tradeoff D'Angelo Russell for a star forward/center, the Warriors are going to take a huge step back this season due to the rebalance of power in the West. This may not be the end of their run, but this season will definitely be a speed bump, 46-36 and possibly missing the playoffs for the first time since 2011.