Buy Me Some Peanuts and Cracker Jacks… and This Stuff Too
April 15, 2017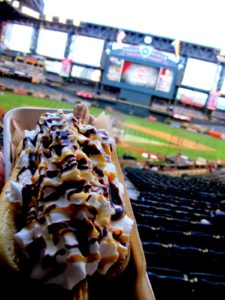 More and more people nowadays are singing "Take Me Out to the Ball Game". Can you blame them? You can pay $50 for bleacher seats to this Friday's Red Sox game and get a Mookie Betts bobblehead, watch the Sox beat the Rays, and eat your worries away in America's most beloved ballpark. It's not just Fenway that has great food. In fact, ball clubs across the nation are reinventing the game when it comes to gameday food.
Way out west, the Arizona Diamondbacks crossed a baseball classic with a delicious dessert. They got the bright idea to replace the hot dog with a churro. Chase field coins it the "Churro Dog" and its topped with ice cream, whipped cream, and chocolate and caramel dripping. How can you not love this? Arizona only charges $8.50 for this delicious dog and I could be a lifelong Diamondbacks fan solely to eat these at every home game. First chance you get, take a trip to Arizona and catch a Dbacks game.
The west appears to be the place to be when it comes to good eats. Of course, its dessert. At Safeco Field, they offer made-to-order ice cream sandwiches. Simple concept that is brought to a whole new level. You can pick a cookie or a brownie for a bun, your favorite ice cream, and a number of toppings to add to the sandwich. Much like the churro dog, not the healthiest option, but who goes to a baseball game to be healthy. Have a burger for a meal and head over to section 132 at Safeco Field for a dessert sandwich.
Moving towards the center of our great country, Busch Stadium offers the next level of ballpark food: the hot dog bar. Who knows, the hot dog could be a sandwich or it might not be, but regardless Busch Stadium is reinventing the hot dog. They throw that bad Larry in a bun and add some ridiculous stuff on there. The "St. Louis Dog" has potato chips, BBQ sauce, and shredded cheese. You can also get a bacon wrapped jumbo hot dog with baked beans, pico de gallo, spicy, aioli, and spicy fried onions. Beers and brauts is the motto at Busch Stadium. Crack a beer and grab a dog and watch the Cards struggle in the NL Central.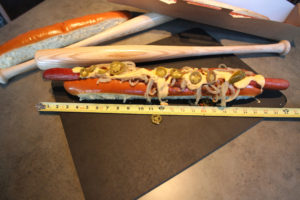 Of course, there are the old-school people out there. America's most beloved ballpark still has the best dog in baseball. A Fenway Frank is a staple in Boston baseball history. If you go to Fenway and don't get a frank, you're doing it wrong. Take your kids, your coworkers, take everyone you know, but you have to buy them a Fenway Frank if you want them to like you. Yeah, I'm a little bias, but hey I love that dirty water and you're damn right Boston is my home.
Written by Stefan Athas