Brandon Phillips Traded to the Atlanta Braves
February 23, 2017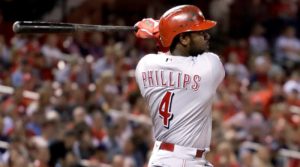 After a few fairly quiet months in roster moves across the MLB, the Cincinnati Reds recently traded 2B Brandon Phillips to the Braves for two minor league pitchers. I believe this trade benefits both sides mutually and isn't one sided in any way. The two minor leaguers that the Braves gave up are ages 27 and 29, so it's not like they're really throwing any part of their future away. In return, they receive a great veteran presence in Brandon Phillips at a position where they haven't really had anyone good since they traded away Dan Uggla in 2014 when his career was on a steep decline. Phillips can act as an incredible mentor to young infielders Jace Peterson and Dansby Swanson, and he has the credentials to keep a starting spot over these youngbloods for at least a year or two even at the age of 35. As for the Reds, I think they also made out well from this trade. They freed up some cap space by dishing Phillips, as well as freeing up a starting position for middle infielders Jose Peraza and Dilson Herrera to duke it out over. With the Reds clearly in a rebuilding stage, they might even dish veteran shortstop Zack Cozart so that both Peraza and Herrera can start and gain some chemistry together. That could be a future deadly dynamic duo, as both middle infielders are only 24 years of age.
Brandon Phillips' numbers speak for themselves. First of all, he is a three time all star. He's an amazing defender, amassing 4 gold glove awards over the course of his career, and won the Silver Slugger Award in 2011. He also has the 2nd most hits out of any second baseman since 2006, trailing only Robinson Cano, and beating out the likes of Dustin Pedroia and Chase Utley. Since 2006 he ties for 3rd in the majors with a remarkable .989 career fielding percentage. Although these career stats are impressive, this man is showing no signs of slowing down. Phillips batted .291 with 34 doubles, 64 RBIs, 74 runs scored, and 11 dingers in 2016. In his last 45 games, he hit a whopping .356, which was the 6th best in the majors. Over his last 63 games, which is roughly the last third of the season, he hit a jaw dropping .344 with 19 doubles and 33 RBIs. You have to keep in mind that this man is 35 years old, and these stats are incredible for someone of his age.
So this trade really was beneficial to both sides. The Reds freed up some cap space and opened up a starting spot for their future, while in return got two on the cuff pitchers that could potentially help in the bullpen down the stretch. The Braves received Phillips whose veteran presence will hopefully boost team morale and kickstart their offense.
Written by Cam Simes