Boogie and the Brow: How the Pelicans Got Screwed
March 3, 2017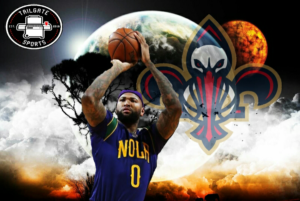 I love the idea of having an NBA franchise in New Orleans. Even though the basketball teams there have never really been all that successful, it is still a good location to try and build a fanbase. However, to build a fanbase, a franchise needs to have some actual success. Enter Anthony Davis. Coming out of one of College Basketball's better teams in Kentucky, this guy came in to become the face of the newly reborn Pelicans franchise. Being phenomenal in the collegiate game, it has translated pretty well over to that of the professional league. However, the issue with this is that Davis is suddenly playing in a game dominated by outside shooting rather than the more traditional big man style game. He's been putting up a lot of points, don't get me wrong, but the Pelicans needed some kind of fast-paced outside shooter to come in and knock down some three-pointers if the team wants to be competitive in the Western Conference (perhaps they could try to find the next Steph Curry). Davis's abysmal 28% from three-point land won't win any games, not to mention he isn't quick enough to defend many of the shooting guards in the West. In the end, the Pelicans needed someone who is competent from downtown and who can defend the perimeter.
So naturally, in a bold move, the Pelicans trade for a big man in DeMarcus "Boogie" Cousins. While I would love to see a team use a dominant double big-man system, it will be nearly impossible to compete with teams that thrive from the outside. Sure the lane will be clogged up to prevent teams that drive to the basket, but nowadays, every successful team has at least two players that can shoot the three-ball. Even though it will be difficult to defend against some of these sharpshooter-heavy teams, in theory it seems that the Pelicans should have no difficulties on the offensive front. Just get the ball to one of the two big guys down low and it's most likely going to be an automatic two points, with a good chance of a foul. However, with this particular offensive scheme, someone still needs to get the Center or Power Forward the ball. You don't seriously expect Cousins or really even Davis to bring the ball up the floor each possession. Turnovers are killers for a team that relies on having two larger dudes on the floor, they'll get tired way more quickly. In the end, the Pelicans need a competent Shooting Guard.
Thursday night, during Boogie's Nola debut, we saw clear proof of this. Anthony Davis and DeMarcus Cousins combined for 56 points, which is pretty good. However, the next highest scorer for their team had 12 (F Omri Casspi, he's injured and has been waived now) and below that was a group of people who only scored 6. This team needs to invest in scorers if they're going to compete against some of the higher-caliber teams in the West. On Thursday, the Rockets destroyed the Pelicans 129-99, at one point being up 100-65. If only the Pelicans had some way to score with their own three-point shot. Where did all of the shooting guards go? Oh wait, THREE of them got traded to the Kings! Now by no means are Tyreke Evans, Langston Galloway, and the infamous Buddy Hield considered to be elite shooting guards, but at least they can take an outside shot. Combine this with the fact that this year's draft, in which the Pelicans gave the Kings a first and second round pick, is supposed to be guard heavy, and you have an absolute disaster for the Pelicans. Oh, and I forgot to mention that at the end of next season DeMarcus Cousins becomes an unrestricted free agent. I have to imagine that if he feels that his team isn't winning enough games or doesn't have the right offensive or defensive scheme, then he's gonna head out of town. Personally, I hope the Pelicans start winning. New Orleans deserves it. But through giving up three shooting guards and two important draft picks for a guy that won't serve the team well in the West that might be gone at the end of next season just doesn't seem like a smart plan. The Kings made a dumb move by not trying to build more around Cousins, but the Pelicans just gave up on building their outside game. As seen in the game against the Rockets, the Pelicans can't keep up with a team of outside shooters. Their big men will be able to score, but the two-point shots don't compare to the three-point shots, even if you do score on every possession. Props to the Pelicans for trying to make the Center/Power Forward positions relevant again, but at the end of the day, you still need guards to be a competitive team in today's NBA.
Written by Rick Wronski