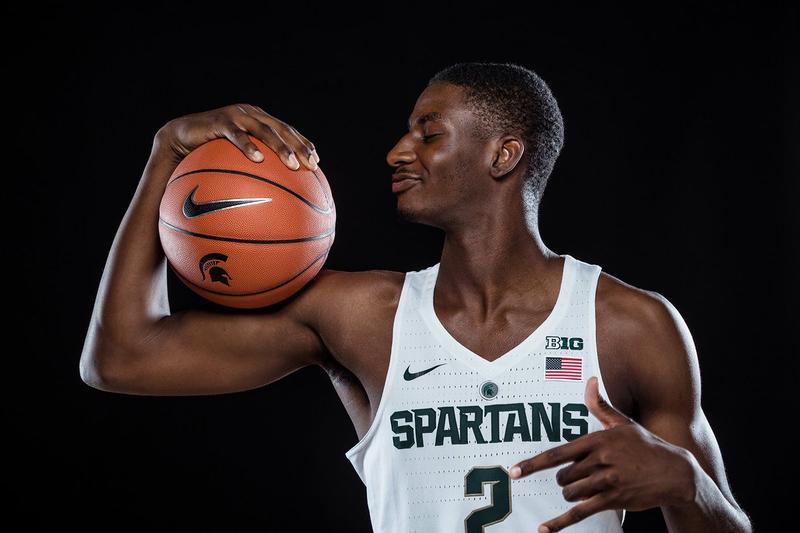 Biggest Busts and Sleepers from the 2018 NBA Draft
June 21, 2018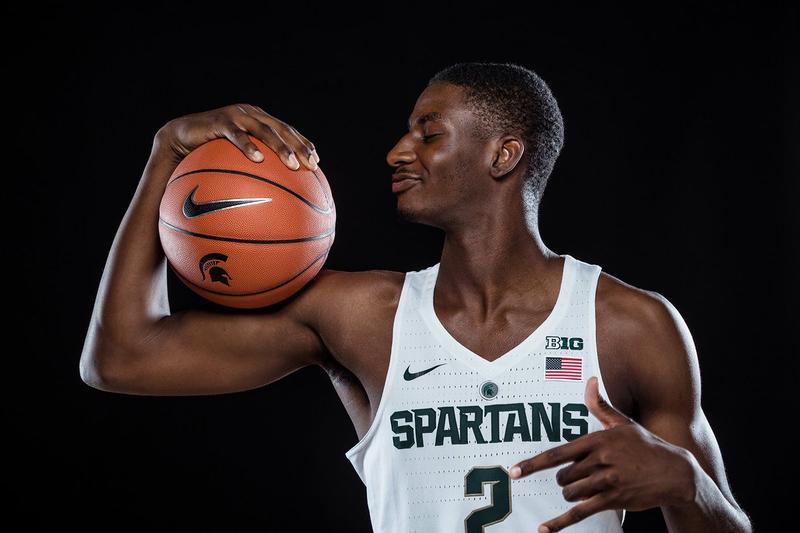 The 2018 NBA Draft is Thursday, June 21 and, like always, the class is stacked with the world's premier young talent. At this point it looks like the Phoenix Suns are poised to take, the freakish big man and reigning PAC-12 Player of the Year, Deandre Ayton, with the 1st overall pick. Outside of Ayton, the prospect field begins to get a little muddled. Some teams believe the 19-year old Slovenian-phenom, Luka Doncic, has all the tools to be a franchise guard in the NBA. While others seem enamored by the immense upside of guys like Marvin Bagley III, Mo Bamba, and Jaren Jackson Jr. But just which of these top prospects is most likely to end up a bust? And which other first round prospects deserve to be taken higher than their projected draft slot? Here are the most overrated and underrated prospects of the 2018 NBA Draft!:
OVERRATED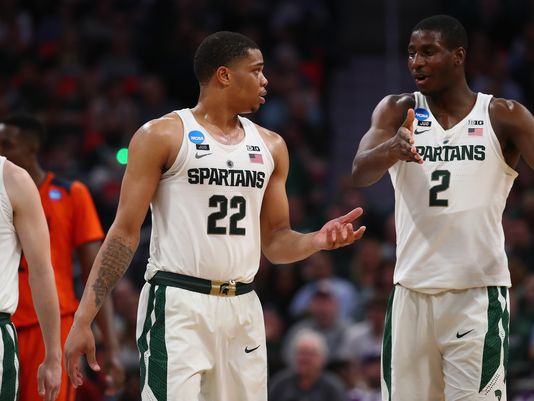 OVERRATED: PF/C Jaren Jackson Jr., Michigan State
ESPN Overall Prospect Ranking: 4
Almost every analyst views Jackson as one of the top prospects in this year's draft, and there's no doubt in my mind that he will be taken with a top-5 pick Thursday night. Jackson is a physical specimen. He's an extremely athletic  6'11", and with a 9'1" standing reach, he nearly averaged a ridiculous 6 blocks per 40 minutes, protecting the rim at an elite level. Scouts see these numbers and highlight reel blocks and immediately believe this defense will translate to the next level. However, in reality, Jackson struggled at the defensive end of the floor and his penchant for fouling forced him to play only an average of 21.8 minutes per game. Jackson fouled out of 5 games last season, and when you look at his fouls per 40 minutes(5.7) it's hard not to be concerned about his defense, given the fact that he committed this many fouls matched up against college level big men. On the offensively end of the floor, Jackson is mostly a catch and shoot 3-point shooter. He did shoot the 3 ball exceptionally well last season, knocking down about 40% of his 2.7 attempts, easily the highest percentage among the elite big-men prospects this year. Outside of that, Jackson fails to create his own shot, or use his athleticism to attack the basket. He can't really handle the ball and is an average passer and playmaker from the post. Unless something drastic happens, I do not see much offensive upside in Jackson's game. At the next level, he translates best as a, defensive oriented, stretch 4 or 5. I think Jackson can be a good NBA player and maybe even an elite defender, if he can get stronger and get out of the habit of fouling, but I definitely cannot see him as an franchise player or superstar. I've seen mock drafts with him going as high as 2nd overall and, to me, that's ridiculous. If your team has a top pick this year, hope they stay away from Jaren Jackson Jr!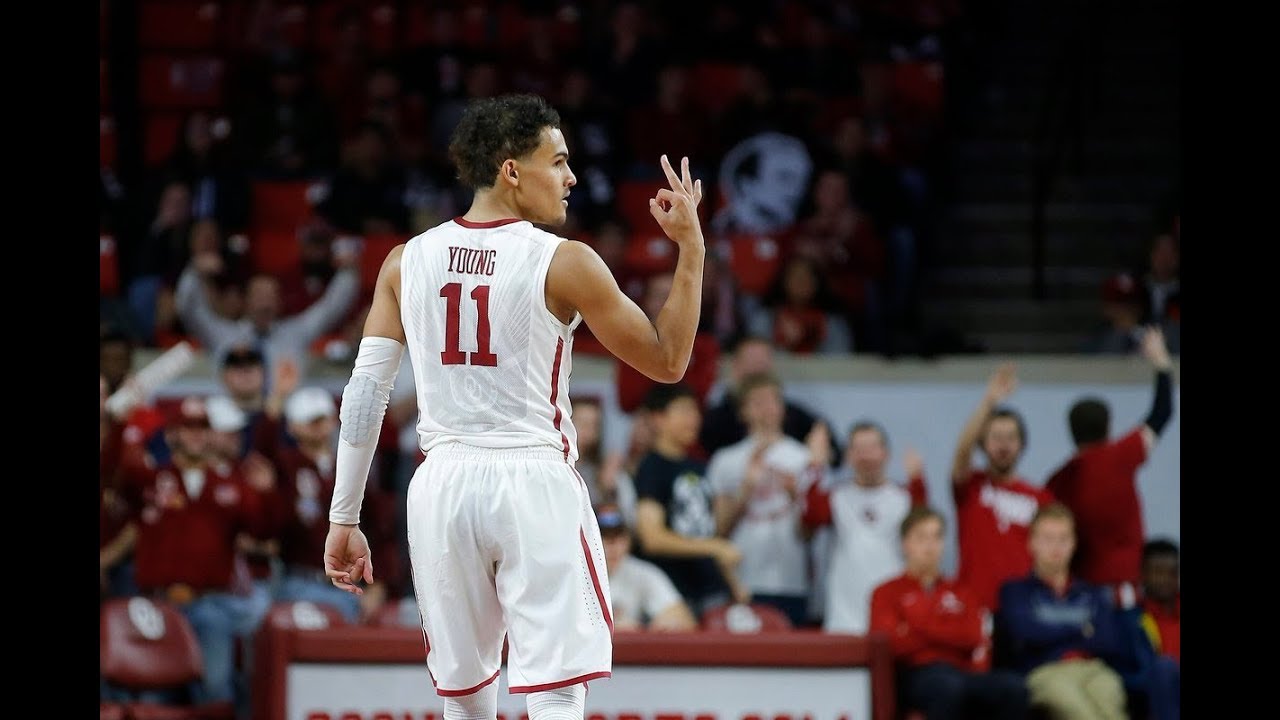 OVERRATED: PG Trae Young, Oklahoma
ESPN Overall Prospect Ranking: 8
Call me a hater if you want, but I never really bought into the Trae Young hype from the college basketball season. For one thing, he kinda came out of nowhere. He was ranked as the 23rd best prospect out of high school and after watching him play against other top recruits in the Jordan Brand Classic, he did not seem to be anything special. Then came the college basketball season. Young's first half of the season was nothing short of unbelievable. He burst onto the scene averaging an historic 30 points, and 10 assists while hitting an unreal 41% of his, average 10.4, 3-point attempts per game. Analysts were already proclaiming him to be the second coming of Steph Curry. Then, the cliff came. In Young's final 16 games of the season he averaged 24.7 points, and 7.4 assists per game while shooting just 31% from 3 and 47% overall from the field. He also turned the ball over nearly 6 times per game in that stretch. At first glance those number may not appear to be that bad, but they are somewhat inflated do to Young's high usage rate and that fact that Oklahoma averaged the 6th most possessions per game in all of D1 a season ago. From a physical standpoint, he's only 6'2", 180 and lacks an elite trait to make up for it. When you look at other undersized guards like Kemba Walker, Isaiah Thomas, Steph Curry, and Steve Nash, they all possessed something that made them special. Curry and Kemba were knock down 3-point shooters, IT had almost unmatched quickness, and Nash was one of the best passers this game has seen. Young's good at all of these things but lacks that elite trait he may need to compensate for his small stature. His second half performance combined with his lack of physicality has me worried about his chances of playing at a high level in the NBA. I would not take Young as the top guard in this draft and would probably draft him between 15-20. Over. Rated.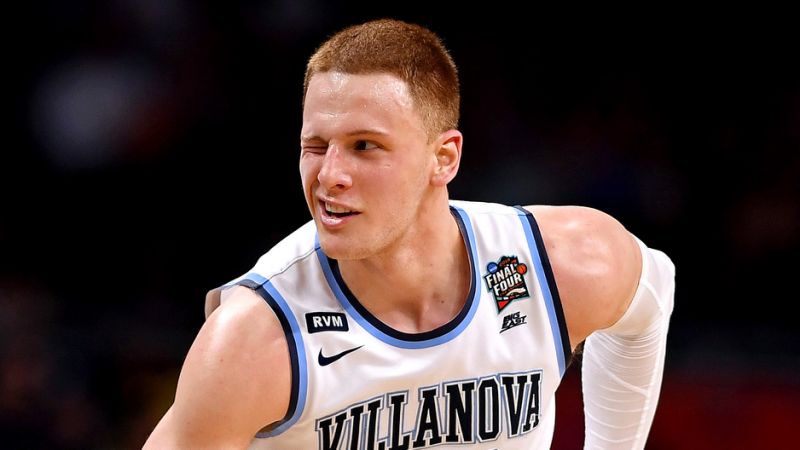 OVERRATED: G Donte Divincenzo, Villanova
ESPN Overall Prospect Rating: 26
Divincenzo is a classic example of a player only real college basketball fans knew of until the Final Four. The position of his draft stock is largely due to his play in one game, last year's National Championship against Michigan. Divincenzo
exploded for 31 points on 10-15 shooting from the field and 5-8 from 3. It was an incredible game by the Big East Sixth Man of the Year, as he took his game to levels most people didn't think were possible. Something people need to realize about Divincenzo is that this was just one game, and a career game at that. Before this performance in the National Championship, the thought of him being a first round pick was laughable. Now don't get me wrong, I'm not saying Divincenzo can't play or doesn't deserve to be drafted, but I think he's more a mid second-rounder. He can really shoot the 3 ball, hitting 40% of his 5.3 attempts per game, he has great athleticism and good size(he's 6'5") so he should be able to hold his own on the defensively end of the floor. Divincenzo can ball, and I think he'll end up having an NBA career, but as a bench piece/depth player. But he's 21 years old and only started 12 career games in 3 seasons at Villanova. He's overhyped and overvalued from his one, big time performance.
UNDERRATED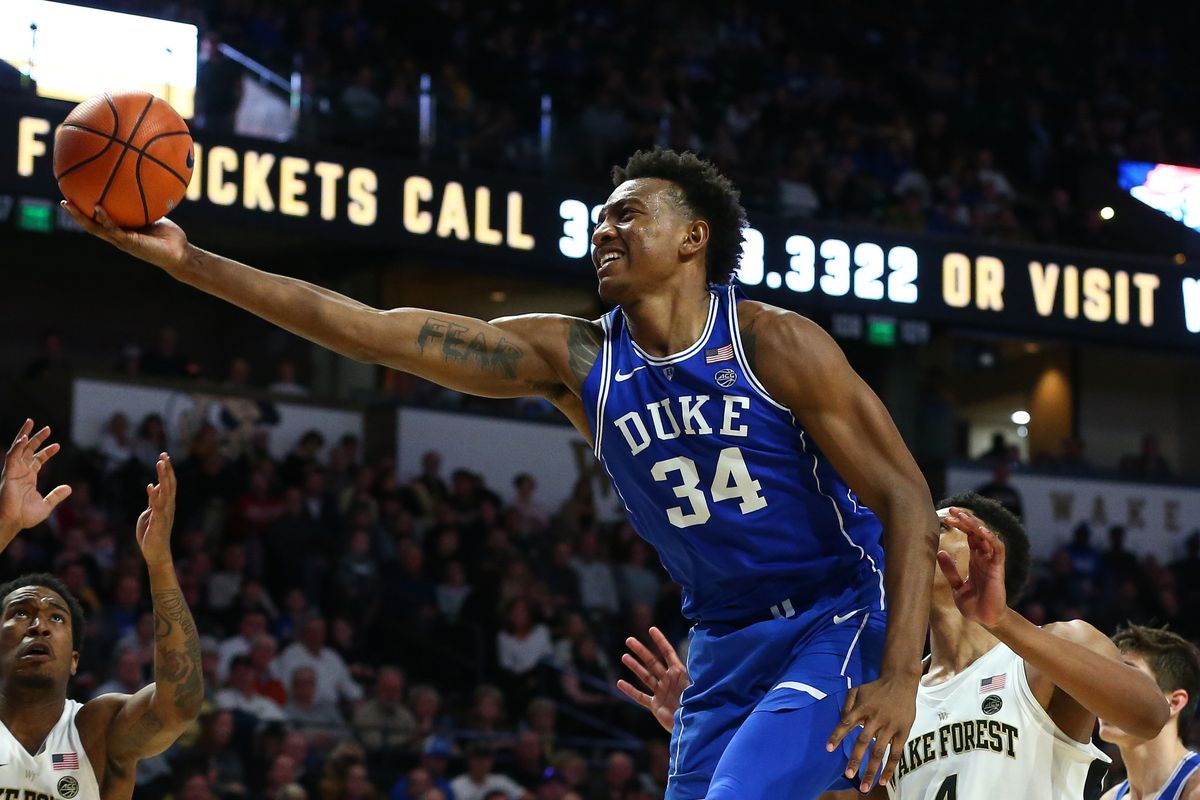 UNDERRATED: PF/C Wendell Carter Jr., Duke
ESPN Overall Prospect Ranking: 7
Most basketball fans are very familiar with Duke's elite big-man, Marvin Bagley III. He was the number 1 recruit in the 2017 class and one of the most hyped prospects in the last few years. He will, no doubt, hear his name called early Thursday night. Bagley's success and flashy play have led evaluators and fans alike to somewhat overlook one of the best players in college basketball and one of the best prospects in this year's draft class, in Wendell Carter Jr. Although most big boards have Carter going in the top-10, he doesn't get nearly the hype that other top big men prospects do. When looking at Carter's game and upside as a player, I think a good comparison for him is Al Horford. Both are undersized, standing at 6'9"-6'10," both appear to be average athletes, and both seem to lack the ability to make spectacular/exciting plays. Where both of these players seem to be the most impactful is at the defensive end of the floor. Despite being a little smaller than Bagley, Carter spent the majority of his time on the court playing the 5 and locking down opposing centers. Carter always competes at a high level, has great defensive instincts, and can protect the rim at an efficient rate, averaging 2 blocks per game. On offense he can finish with both hands around the basket, and cannot only score but also facilitate out of the low post. His most underrated skill may be his passing and playmaking ability. Not only that, but he has a smooth jumper and nice turnaround shot from the high post. Finally, although he did not shoot too many, he shot the 3 ball with great consistency, nailing 41% of his attempts. I am telling you right now, Wendell Carter Jr. will be the next Al Horford. Do not overlook his upside and clear cut abilities.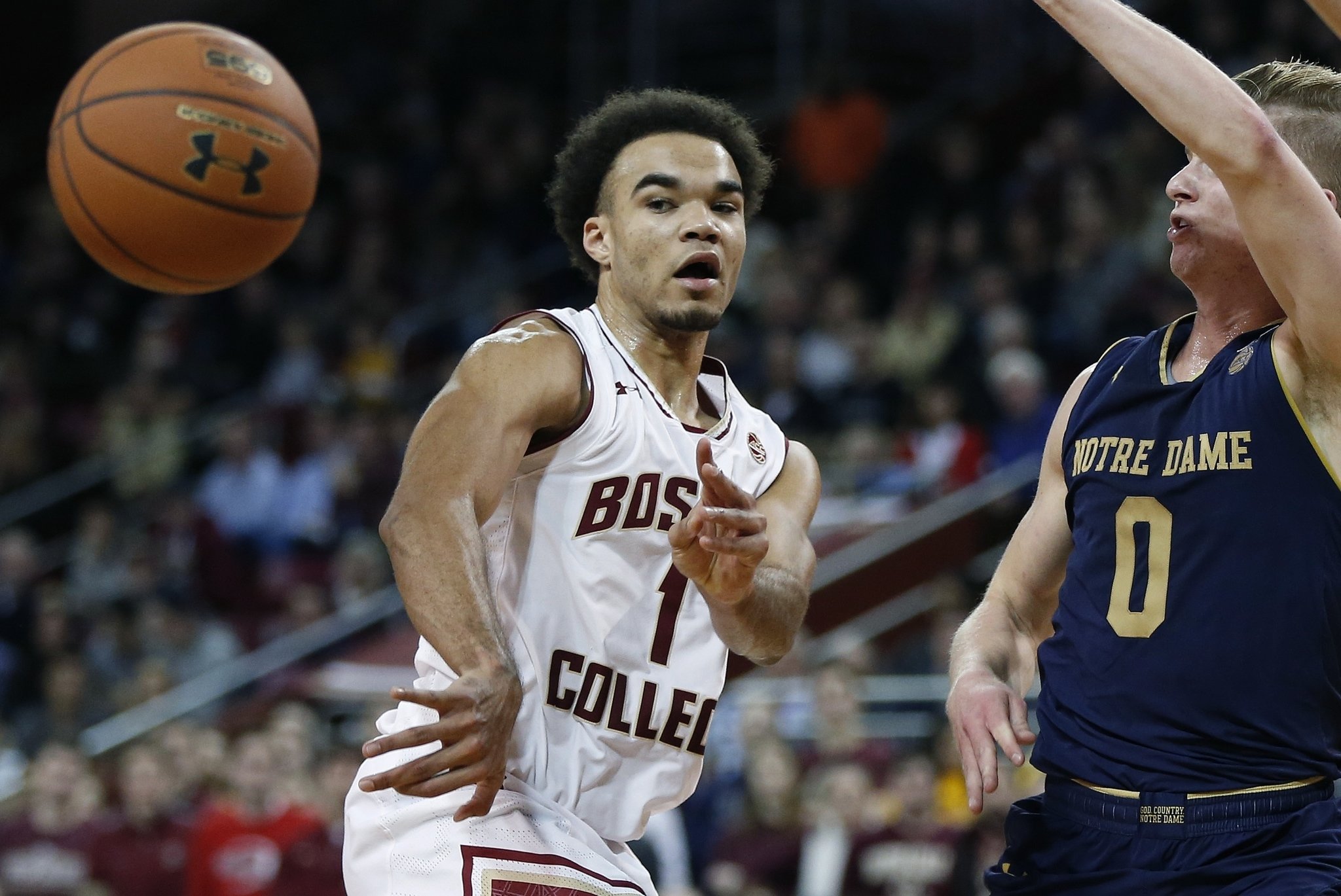 UNDERRATED: G Jerome Robinson, Boston College
ESPN Overall Prospect Ranking: 17
In recent days, I've seen Robinson's stock rise from border line first round pick to mid first round pick. After seeing him perform in private workouts, teams are finally realizing that this kid has some impressive offensive abilities. Coming out of high school, Robinson was just a 3-star recruit. His best offer, by far, was to play for Boston College and compete against college basketball's elite in the ACC. What no one really knows, is that he's also been a pretty solid player. As a freshman on the worst team, in maybe all of D1 at the time, he averaged nearly 12 points per game and shot 38% from 3. Since then, Robinson's taken huge strides in his game. His sophomore year he averaged 18.7 points per game and began to flash some play making abilities dishing out 3.4 assists per game despite splitting time at the PG position. However, it wasn't until last year that he was finally recognized for his elite play. After a somewhat slow start to the season, Robinson, caught fire in ACC play. Over his final 18 games of the year, he averaged 24.7 points and 3.4 assists per game shooting an insane 55% from the field and 45% from 3. These numbers look even better when you account for his high usage rate. Robinson was awarded First-Team All ACC for his remarkable play. Maybe this is simplifying things too much, but when a player shoots the ball a lot and teams game plan to stop him each and every night and that player still scores at a ridiculous clip and efficiency I'd say he's pretty good. If Robinson had played his college ball at UNC, Duke, or Kentucky I'm sure he'd be a lottery pick this season. If there's any player in this draft class that I'd pick to far outplay his draft position, it would be Jerome Robinson. Depending on his landing spot, he could become a star as soon as next year.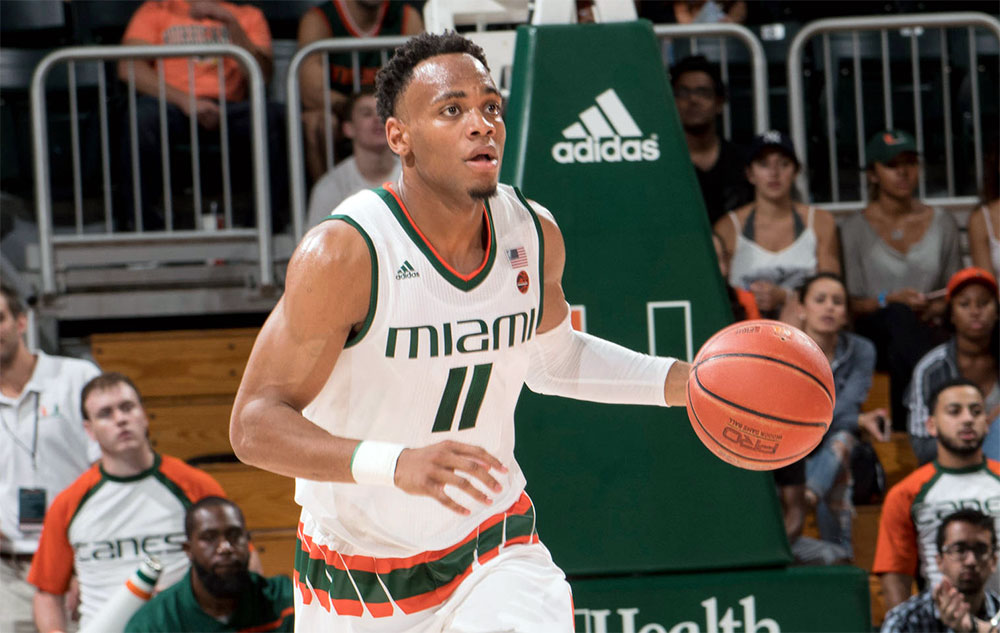 UNDERRATED: G Bruce Brown Jr., The U
Now this pick might surprise some people out there because Brown's coming off a pretty down year compared to his freshman season, but I've always been high as him as a pro prospect. In his freshman season, he displayed a unique combination of strength, athleticism, and touch, averaging 12 points, 5.6 rebounds, 3.2 assists, and 1.5 steals per game. Even as a freshman, Brown was clearly one of college basketball's most athletic guards and was a mismatch at both ends of the floor for opposing teams. Heading into his sophomore season, many analysts pegged him to breakout in a big way and viewed him as a potential lottery pick in the 2018 draft. But shooting woes and a nagging foot injury, that resulted in season ending surgery, derailed what could have been a huge year for Brown and the Hurricanes. As long as he can return to full health and regain his confidence shooting the ball, I believe he can grow into a potential All-Star caliber player. Even if his offensive game never develops into what experts thought it could be during his freshman year, Brown already projects as a potential defensive stud. His big body, quick feet, strong frame, and natural instincts on the glass should translate well to the NBA. Even if the offense never comes on, you're looking at a bigger, more athletic verison of Marcus Smart. I'd be surprised if the Celtics pass on this guy with the 27th overall pick.
Written by Ryan Scimone