3 Things to Watch for This Sunday-Week 3
September 23, 2017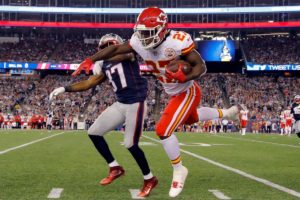 Okay, it's week 3 of the NFL regular season, and your team isn't quite out of it yet—I'm looking @ you Bills Mafia. Your team could be struggling to score points (Vikings without Sam Bradford) or your team could be on the rise as long as they can stop someone on defense (Lions).
My point here is that it is very early in the season, and Trevor freaking Siemian leads the league in passing touchdowns (tied with Stafford with 6). A lot can change, and teams are going to find out about themselves and their potential down the road as we go into the month of October, and then we will see who are the real contenders of the 2017 season.
Here are 3 things to look for this Sunday:
Kareem Hunt vs. Chargers Defense
Kareem Hunt has been stellar in the first two games for the Chiefs—there's no other way to say it, the kid can straight up ball. But this week, he faces the LA Chargers defense. Joey Bosa, Melvin Ingram, and the rest of that Chargers defense ranks 16th in overall defense, but through two games has only allowed 251 total rushing yards and one rushing touchdown. Hunt racked up 148 rushing yards in the opening week upset against the New England Patriots and another 81 yards in the win last week over the Philadelphia Eagles. Hunt has rushed for 229 yards, and like I said the Chargers only gave up 251 total. This could be the matchup to watch and going forward when the Chiefs and the Chargers meet in Week 15 in Kansas City.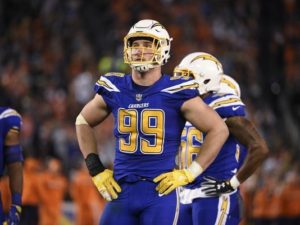 Aaron Rodgers vs. Bengals
Aaron Rodgers is a first ballot Hall of Famer, but he still has one team to beat in his NFL tenure—the Cincinnati Bengals. In two career games against the Bengals, Rodgers has a 57 percent completion rating, a 73.5 QB Rating, and 2 INTs with only 2 TD passes. Rodgers and the Packers are reeling, after an embarrassing defeat at the hands of the Atlanta Falcons last Sunday night, and that was after a week of not being able to score more than 17 points at home against Seattle in Week 1. The Packers need a win to maintain their division rival Lions who sit atop the NFC North, and need to take advantage of the Minnesota Vikings' offensive issues due to their injury at quarterback.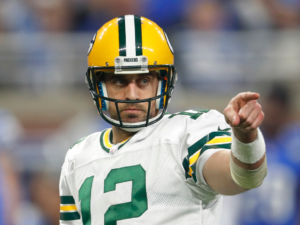 Brady & vs. Texans Defense
Tom Brady can drink all the water and electrolytes possible, and promote his newly released TB12 Method book, but nothing will stop J.J. Watt and the Houston Texans defense. Brady is already dealing with an awful matchup due to the Patriots' offensive injuries to Edelman, Amendola, Gronkowski, Burkhead, Malcolm Mitchell, etc. Now he needs to find a way to stop the Texans' pass rush—it's a lot to ask out of the GOAT. But that's why he's the GOAT.
I'm not saying the Patriots are going to lose this game—I see them winning, but not covering that 13.5 point spread that Vegas is daring you to take. The Patriots and Tom Brady are incredible at home—101-18 all-time in Foxboro, but that doesn't matter much when Clowney & Watt are running like two trains at you and many of the Patriots' offensive weapons are all either on IR or injured.
The Patriots beat the Texans in the playoffs this past January 34-16, but one touchdown was on a kickoff return and the other was set up by a bad interception by then-Texans QB Brock Osweiler that set up the Patriots in the red zone—so what does that mean?
The Patriots need to play better defense than they have the first two weeks, and if they don't then Brady will have to sling the ball even more accurately than he did this past weekend down in New Orleans on his way to AFC Offensive Player of the Week.
Like I said the Pats will take home the W, but it will be a long Sunday afternoon if Gronk and Amendola are hobbled by injury and the Patriots' defense doesn't step up.