2017 NFL Combine Sleepers
March 2, 2017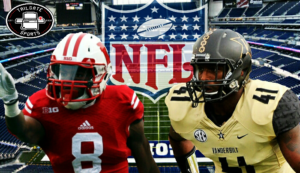 The 2017 NFL draft combine starts on February 28th and runs through March 6th. Many players will attend this major step in the process of making it into the NFL, but whose stock will rise with a strong performance? Here are the top five players to watch out for on combine day.
1.)  Curtis Samuel WR/RB Ohio State:
Curtis was a speedy back for the Buckeyes this year, but could also be put out into the slot as a wide receiver. Standing at 5'11" and 201 pounds, Samuel is a very athletic player that I, and many other people, believe is one of the contenders for top 40 yard dash time this year. He is a great comparison to the New England Patriots' Dion Lewis, who is a speedy, and elusive player that can catch passes and make plays. I believe that Curtis Samuel will be a top performer at many of the on-field drills and measurables, but won't be a top contender for the bench press. What will most impress teams is Samuel's ability to be a dual threat on the field.
2.)  Sojourn Shelton CB Wisconsin:
Sojourn is a great cover cornerback that physical and has speed to cover most wide receivers. The thing Shelton lacks is recovery speed if he is beaten off the line. He should be compared to Joe Haden of the Brown's for his physical and cover ability, but also his speed to cover almost any receiver in the league. I expect Shelton to be around the middle for all cornerbacks in the 40 yard dash, but will be in the top group for great technique in the on-field drills. For Sojourn Shelton to shine for the scouts, he needs to impress in the vertical and broad jump, almost like what defensive back Byron Jones did a couple of years ago to rise quickly up all teams boards. With great numbers for these two events, Sojourn Shelton will backup the claim that he is a great cover corner in this years draft.
3.)  Adam Shaheen TE Ashland:
Many of the scouts and NFL executives see Adam as a first or second round talent, as others see him more as a third to fourth round pick. He's a big and tough Tight End that can make great receptions in the open field. Shaheen reminds me of the Patriots' Rob Gronkowski who is a tall physical player that can make big time catches and doesn't have crazy speed, but has an open field speed that gets the job done. I expect Adam Shaheen to do alright in the 40 yard dash, not having the best time overall, but having one of the top times for the last 20 yards, since he has a sort of break away speed once he gets going. I then see Adam doing amazing in the on-field drills, and doing moderate at the jumps and measurements. What will tell the scouts if Shaheen is worthy of a first or second round pick is if he can be a two dimensional Tight End and be able to block, which he wasn't used for much this past season. The bench press and some on-field drills will be able to help bring that clearance to those scouts and executives.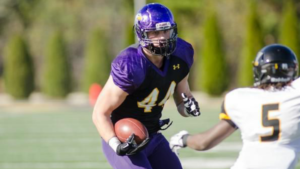 4.)  Patrick Mahomes QB Texas Tech:
Mahomes season of throwing for 4000 yards was overshadowed, due to how bad the team did as a whole. Patrick is a very explosive quarterback that has a strong arm and is very accurate, along with being able to make great reads. He's a great comparison to the Steelers' Big Ben that has the same size, heights, and traits as Patrick Mahomes, as they play the game in a similar fashion. The 40 yard dash, other measurables like broad jump and 3 cone drill, will affect him in any way. What will create buzz and cause Mahomes to rise is what he does with all the passing on-field drills, letting him show off all the skill and talent he has with his arm and his intelligence of the position.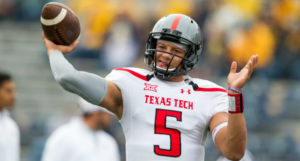 5.)  Zach Cunningham LB Vanderbilt:
Zach was a highly talked about first rounder during the season with him flying around and making plays all over the field. But this offseason with many other players being talked about for what potential they do have. Cunningham is an athletic speedy player but is also very physical. He can be found wherever the ball is, because he will be there making a play. He reminds me of the Seahawks' Bobby Wagner, who is another Linebacker that has all these traits, and makes plays all over the place. I believe that Zach Cunningham will re-electrify his name with a strong performance throughout the 40 yard dash, measurables, jumps, and on-field drills. This is a player that will not only impress on the activities, but also during the meeting with each team, due to his high intelligence for the game of football. He was once considered a first round pick, but was soon forgotten. After the combine, he will be a sure fire first round pick.
Written by Domenic Buccini