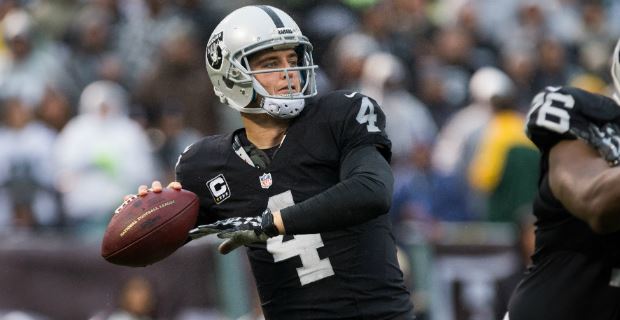 20 Under 30: Fantasy QB Rankings For 2017 Dynasty/Keeper Leagues (#'s 9-5)
June 16, 2017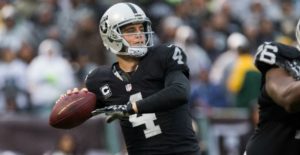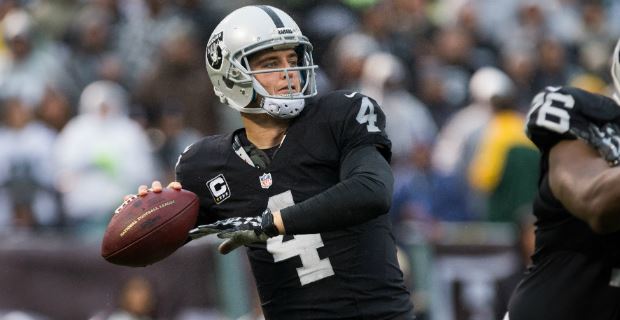 As we continue to roll out our list of the best, young QB's to dominate your dynasty league with, we will start analyzing the truly talented individuals that compose the top half of our bottom ten. (Missed the first 10 on our list? Check theme out here!)
20-15:
20 Under 30: Fantasy QB Rankings For 2017 Dynasty/Keeper Leagues (#'s 20-15)
14-10:
20 Under 30: Fantasy QB Rankings For 2017 Dynasty/Keeper Leagues (#'s 14-10)
The next five QB's listed below are quality players that have shown they know how to get the job done, and because of their age, they will continue to do so for seasons to come.
9. Sam Bradford, Minnesota Vikings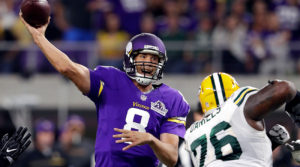 Age: 29
2016 NFL completion Raiting: 71.6%
NFL 2016 Passing Touchdown to Interception Ratio: 20 to 5
Even at 29, I really like Sam Bradford. He had the best completion rating in 2016, and NFL history, with 71.6%, posting up 3,877 yards. Bradford also had a great red zone completion rating of 67.5% that helped contribute to his 20 touchdowns. He's smart with the ball, having only thrown five interceptions over the fifteen games he played last season, and I believe he's poised for an even a bigger year in 2017. Minnesota has added Latavius Murray and Dalvin Cook to help give Bradford more options when it comes to running his offense and improved their biggest weakness, their offensive line, with Mike Remmers and Pat Elfein. Bradford is like a fine wine, improving with age, and as long as he stays healthy, he'll provide constant points for your team should you select him.
8. Matthew Stafford, Detroit Lions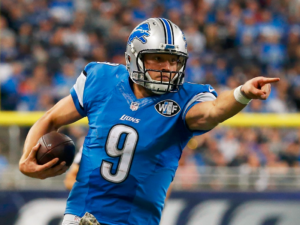 Age: 29
NFL 2016 Completion rating: 65.2%
NFL 2016 Passing Touchdown to Interception Ratio: 24 to 10
The Lions decided not to pick up a running back this offseason, meaning, they believe in the guys they have, and Matthew Stafford's arm. Even without Calvin Johnson, Matthew Stafford was still able to post up a 4,327 yard season. Stafford also has a great red zone completion rate of 60.9%. Stafford is a competent QB that has posted statistically impressive season after season and with Golden Tate and Marvin Jones, and it doesn't seem like that will be stopping any time soon.
7. Tyrod Taylor, Buffalo Bills
Age: 27
NFL 2016 Completion Rating: 61.8%
NFL 2016 Passing Touchdown to Interception Ratio: 17 to 6
The Buffalo Bills made the right move in picking up Ty-God's contract, and you'd probably do the same by selecting him for your dynasty team. His arm is not the best, with only 2,997 yards last season and 27.5% deep ball completion rate, however, his true power comes from his mobile nature. The 2016 NFL QB rushing leader, with 580 yards and 6 rushing touchdowns, he is a true mobile force on the gridiron. The Bills recently selected Zay Jones from East Carolina in the second round of the draft, and along with Sammy Watkins, Tyrod is going to have a good amount of weapons to rely on. Taylor is one of the most exciting young quarterbacks in the NFL, and will continue to trend upwards barring some unforeseen injury.
6. Derek Carr, Oakland Raiders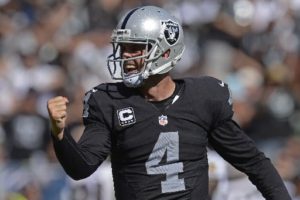 Age: 26
NFL 2016 Completion Rating: 63.7%
NFL 2016 Passing Touchdown to Interception Ratio: 28 to 6
Derek Carr is the classic pocket passer in the most devastating sense. Sit back and watch him rip apart defenses from behind the Oakland line. He wont be scrambling around the field like Tyrod Taylor or Cam Newton, but when you can relax and toss deep balls to Michael Crabtree and Amari Cooper for a 41.0% deep ball completion rating, why would you have to? He's accurate, confident and careful with the ball. Owners with Carr on their team just have to start him and watch the yards and touchdowns fly in, as long as he stays healthy.
5. Marcus Mariota, Tennessee Titans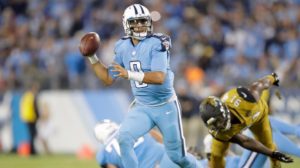 Age: 23
NFL 2016 Completion Rating: 61.2%
NFL 2016 Passing Touchdown to interception ratio: 26 to 9
Marcus Mariota has the arm. 42% off all throws he made over 20 yards last season hit their target, and he ran the ball for 365 yards, 4th most out of any QB in the NFL. The term "Dual Threat" quarterback is thrown around a lot, but in Mariota's case it is true. He's also unbelievably careful with the ball and has great pocket presence. His throws are smart and accurate. Corey Davis, Delanie Walker and the other Titans for Mariota to exploit all lead to one killer offense that will end up with dominant stats for Mariota this year and going forward. Definitely a top pickup in the early rounds of your draft.
Keep locked to Tailgate Sports to see the last part of our list and learn who made the number one spot!
Written by Connor Hoehn, @UndraftedPunter