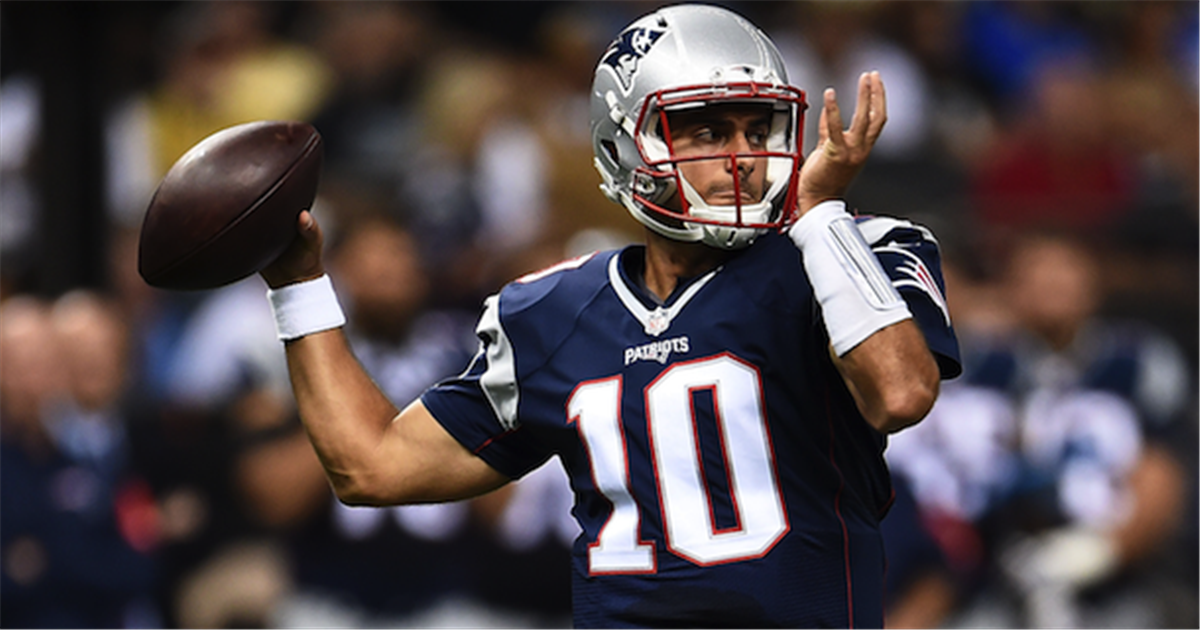 20 Under 30: Fantasy QB Rankings For 2017 Dynasty/Keeper Leagues (#'s 20-15)
May 30, 2017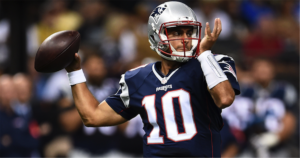 It's not a sprint in keeper leagues, but a marathon. Who wants to be a champion once?  You could do it again the next year, and the year after that. Become a true giant; a fantasy gridiron legend. Sure, you could draft Ben Roethlisberger, but where does that leave your QB position in a few years? To truly be dominate in your keeper league and create, dare I say, a dynasty, you need to think years ahead. To help, we've compiled a list of the 20 best QB's under the age of thirty to provide you with long-term dominance at the Quarterback position in your keeper league. To start, here is the first five of the young prodigies.
Jared Goff,  Los Angeles Rams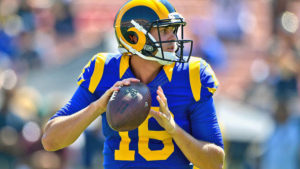 Age: 22
NFL 2016 Completion Percentage: 54.6%
NFL 2016 Passing Touchdown to Interception Ratio: 5:7
Jared Goff was never going to be the Rams savior last season when he was thrown into the gridiron fire week 11 against Miami, and chances are he still won't be… at least not yet. Over the 7 games he started, he only posted 1,089 passing yards, with 5 touchdowns and 7 interceptions. Goff sneaks onto this list at the last spot because he's got a cannon for an arm and adequate athletic ability. He ran a 4.82 40-yard dash and had a throw velocity of 58 MPH at the NFL Combine. Chances are he won't be posting up big numbers in the 2017 season, but with the Rams selecting Gerald Everett and Cooper Kupp in the draft, Goff could prove to be a competent quarterback with a few powerful weapons surrounding him down the line; he is worth the roster spot if available in later rounds of your draft.
Paxton Lynch,  Denver Broncos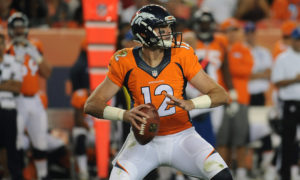 Age: 23
NFL 2016 Completion Percentage: 59.0%
NFL 2016 Passing Touchdown to Interception Ratio: 2:1
It is not a question of if Paxton Lynch will start as Denver's Quarterback, but when. His athletic ability outshines that of the Broncos' Trevor Siemian, and this is what will eventually land him the job. Starting in only three games last season, Paxton showed inexperienced promise, with the ability to scramble out of the pocket and fire some accurate, deep passes. He has a throwing velocity of 59 MPH and proved he could make plays during his time at Memphis. Lynch just needs time for the game to slow down. He threw for 497 yards, 2 touchdowns and 1 interception during his 3 game starts. During week 5 he had a statistically impressive game against Atlanta, throwing for 223 yards with a 65.7% completion rating.  Paxton has the potential to put up some serious yards. It may just be a while before he starts to show true talent in Denver.
Mitchell Trubisky,  Chicago Bears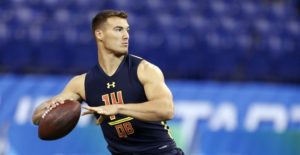 Age: 22
College 2016 completion percentage: 68.0%
College 2016 Passing Touchdown to Interception Ratio: 30:6
When reviewing tape of Mitch Trubisky, the thing that strikes me isn't his arm strength, but his footwork. The 222-pound quarterback out of North Carolina shows an impressive ability to throw on the move, even off the back foot. He can connect quick, accurate passes into tight windows after 5step-moves from the pocket. His legs also have served him on the run as he showed the ability to escape the pocket and gain positive yardage multiple times during the 2016 season. Trubisky's 1 knock is his lack of experience, only starting a single year at North Carolina. His pocket presence is lacking and he has a tendency to stare down receivers from the line. Mitchell will need time to develop before gaining major success in the NFL. However, his athletic ability and skill of making plays on the move could lead to him being a versatile force in Chicago and on your dynasty team if you are willing to take a chance on the young QB.
Deshaun Watson,  Houston Texans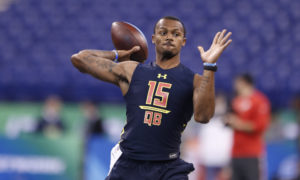 Age: 21
College 2016 Completion Percentage: 67.0%
College 2016 Passing Touchdown to Interception Ratio: 41:17
Deshaun Watson is, hands down, the best Quarterback prospect coming out of this year's draft class. The 6'2", 221-pound Quarterback out of Clemson is the true definition of a dual threat. He, much like Mitch Trubisky, uses his legs to his advantage, with the ability to throw into tight windows after multiple step combinations and create plays. He also ran for 629 yards last season, making some exceptional plays on the move. During tape evaluation, you can see how much of a game changer Watson is; he puts his body on the line every play and looks for every opportunity to gain yardage. Watson ran a 4.66 40-yard dash and threw at a 49 MPH velocity, showing how his legs and arms are both powerful weapons. The issues that I see with Watson are his lack of pocket prescience and limited offensive knowledge due to playing in Clemson's system that contained exclusively simple reads. He has a tendency to stare down his receivers at the line and is a little too quick to break from the pocket rather than create plays when things start to break down. Deshaun's big playmaking ability is what impresses me the most and why he's higher on the list then Trubisky. His success will depend on how well he can adapt to the NFL and if he can bring that big play magic with him.
Jimmy Garoppolo, New England Patriots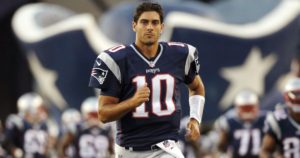 Age: 25.6
NFL 2016 Completion Percentage: 67.2%
NFL 2016 Passing Touchdown to Interception Ratio: 4:0
Garoppolo was one of the biggest surprises at the start of last season, filling in for the then-suspended Tom Brady; Garoppolo posted impressive numbers. Playing a 264 yard game with a 72.7% completion rating and 1 touchdown against Arizona in week 1 followed by a 234 yard, 66.7% completion rating, 3 touchdown performance in week 2 against Miami before suffering a shoulder injury. Chances of Garoppolo starting in New England are slim, seeing how Tom Brady plans to play until he's 62, not to mention the final year of Jimmy's rookie contract comes to a close at the end of this season. However, Garoppolo showed promise after years of marinating in a Brady/Belichick stew and could make a major impact on whatever team he will play for in the 2018 NFL season and in turn, your dynasty roster. The only thing keeping Garoppolo from rising higher on this spot is the fact that he played 2 games last season before injury. Even though those games where phenomenal stats-wise there is still a risk in choosing Garoppolo, seeing how he is still a bit unproven.  
Blake Bortles,  Jacksonville Jaguars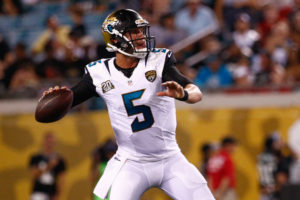 Age: 25
NFL 2016 Completion Percentage: 58.3%
NFL 2016 Passing Touchdown to Interception Ratio:: 23:16
From just looking over Blake Bortles 2016 statistics, you would think he was anything other than spectacular, which is probably true. 3,894 yards, 23 touchdowns and 16 interceptions contributed greatly to the Jaguars' 3-13 record. However, 1 stat that stands out is his 359 rushing yards, fifth most for QBs in the NFL that year. He was also coming off a far better 2015 season, with 35 touchdowns, second most in the NFL that year. When the Jaguars are in sync, Blake can use that receiving core to great effect, and now with the Jaguars recent selection of Leonard Fournette in the NFL draft, Jacksonville's offense has just gotten a lot more versatile. When Bortles can stop throwing interceptions, he can play some truly amazing, big yard games with his arm and legs. If it wasn't for his astounding amount of turnovers (51 over the past 3 years, second only to Philip Rivers) then he would easily break the top 10 on this list. However, until Blake can gain better decision-making skills, I'd relegate him to later rounds to be selected as a backup on one's roster.
Written by Connor Hoehn, @UndraftedPunter